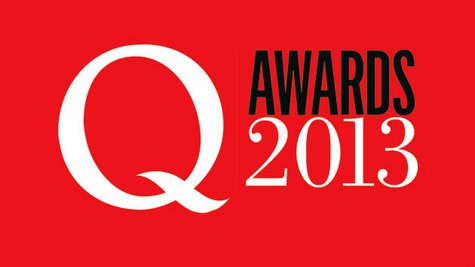 The U.K. magazine Q will be holding their annual Q Awards next month, and while veteran rocker David Bowie leads the pack with six nods, Arctic Monkeys , Vampire Weekend , Daft Punk and Foals are up for three awards each.
Vampire Weekend, Daft Punk, Foals and Biffy Clyro will battle against the Thin White Duke for Best Album, while Daft Punk's hit single "Get Lucky" will face off against Arctic Monkeys' "Do I Wanna Know?" for Best Track. "Get Lucky" is also in the running for Best Video against Vampire Weekend's "Diane Young" and Beady Eye 's "Shine a Light."
In addition, Arctic Monkeys and Foals will compete against each other in two other categories: Best Live Act and Best Act in the World Today. Other bands nominated for Best Live Act include Mumford & Sons , Muse and The Stone Roses , while bands nominated for Best Act in the World Today also include Vampire Weekend, Biffy Clyro and David Bowie.
The awards will be handed out October 21 at a ceremony in London, a ceremony at which it's customary for all the attendees to get rip-roaring drunk and say embarrassing things.
You can vote for your favorites now at QtheMusic.com/QAwards2013 .
Here are the nominees in the main categories:
Best Track
Arctic Monkeys, "Do I Wanna Know?"
David Bowie, "Where Are We Now?"
Daft Punk featuring Pharrell Williams, "Get Lucky"
Ellie Goulding, "Burn"
Robin Thicke featuring TI and Pharrell, "Blurred Lines"

Best Video
Beady Eye -- "Shine a Light"
David Bowie -- "The Stars (Are Out Tonight)"
Daft Punk featuring Pharrell Williams -- "Get Lucky"
Manic Street Preachers -- "Show Me the Wonder"
Vampire Weekend -- "Diane Young"

Best Album
Biffy Clyro, Opposites
David Bowie, The Next Day
Daft Punk, Random Access Memories
Foals, Holy Fire
Vampire Weekend, Modern Vampires of the City
Best Live Act
Arctic Monkeys
Foals
Mumford & Sons
Muse
The Stone Roses

Best Act in the World Today
Arctic Monkeys
David Bowie
Vampire Weekend
Biffy Clyro
Foals
Copyright 2013 ABC News Radio