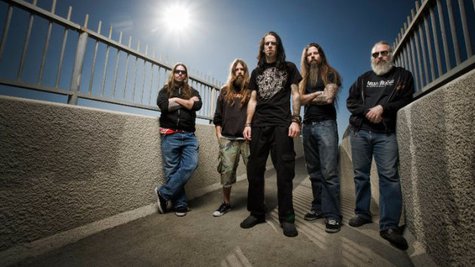 When Lamb of God released As the Palaces Burn in 2003, the band wasn't thrilled with the quality of the audio. Now, the group has announced that they'll be delivering a newly remastered version of the album to fans in November in honor of the record's tenth anniversary.
"Ever since the original release, we've been distraught about the sonic qualities of As the Palaces Burn ," says drummer Chris Adler in a statement on the group's website . "The band had captured lightning in a bottle and the budget limitation of a sophomore album turned our lightning into a firefly in a jar. It feels appropriate to revisit now that we can and give this very special album the chance to reach our original hopes and it's true potential."
The As the Palaces Burn 10th anniversary edition contains the album's original ten tracks, along with previously-unreleased demos of "Ruin," "As the Palaces Burn" and "Blood Junkie." The set also comes with a DVD which features a new documentary, in which the band members discuss recording the release and the stories behind the tracks.
You can pre-order the set now at LambOfGod.merchnow.com .
Copyright 2013 ABC News Radio