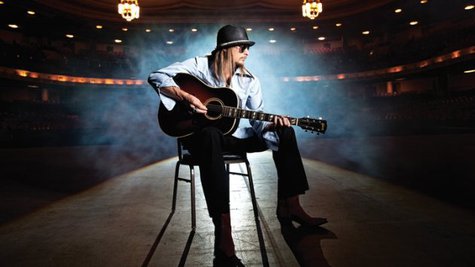 A 42-year-old unemployed carpenter was sentenced to at least 46 months in prison Wednesday for trying to break into Kid Rock 's Michigan home by crashing his minivan through the singer's front gate this past summer, the Detroit Free Press reports.
Brian Keith pleaded no contest earlier this month to attempted home invasion, malicious destruction of a building and malicious destruction of personal property.
Keith's attorney asked that his client be sent to a rehab program instead of prison so he could receive help for his alcohol and drug addiction, but Oakland County Circuit Court Judge Wendy Potts noted the defendant's 28 prior misdemeanor convictions and three felonies and called Keith "a tremendous danger to the public..."
Surveillance video showed Keith using his car to ram through the front gate of Rock's Clarkston, Michigan, home and getting out on crutches to try his luck on the doors.
Keith didn't get into the house. Rock wasn't home at the time of the incident.
Kid Rock did not attend Wednesday's hearing, but the newspaper reports he made his feelings known to prosecutors that he wanted Keith to receive the maximum penalty.
Prosecutors said Keith caused about $29,000 in damage during the break-in, but Kid Rock isn't seeking restitution.
Copyright 2013 ABC News Radio