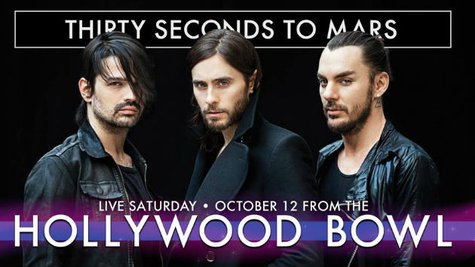 30 Seconds to Mars needs your help in order to offer a stream of their upcoming concert at the Hollywood Bowl in Los Angeles on October 12.
While the band has partnered with VyRT.com to webcast the event, there's a catch: at least 7,500 people must buy digital tickets in order for it to be seen. Tickets for the event will run you $14.99 and are currently available at Beta.VyRT.com/Mars . If the ticket goal is reached, VyRT.com will also include a stream of the band's soundcheck session in addition to the Hollywood Bowl concert.
As of Friday afternoon, around 2,100 people have purchased digital tickets to the event. Visit VyRT's Facebook page for more information.
Copyright 2013 ABC News Radio