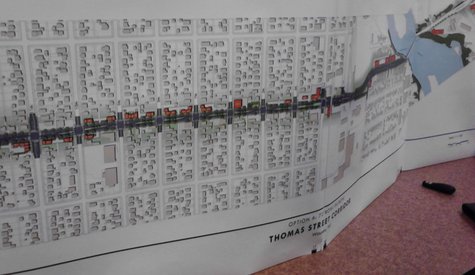 WAUSAU, Wis. (WSAU) -- Wausau's decade-old dilemma known as the Thomas Street redevelopment project took a baby step forward Tuesday.
Both the Finance and the Economic Development Committees approved a concept designed by Milwaukee-based GRAEF Engineering and Design. The concept calls for four traffic lanes from the Wisconsin River bridge to 3rd Avenue by 3M, and two traffic lanes plus turn lanes from 3rd Avenue westward to 17th Avenue.
Council President Lisa Rasmussen says this did not go from Finance and Economic Development straight to City Council because there are many more issues to resolve in other committees. "That does not dedicate the right-of-way, it doesn't line up the road, it doesn't discern who gets bought out and who stays, what the land acquisition width is actually going to be, all of those things happen in future meetings. So really, all this does is basically establish step one on the launch pad where we know what we're going forward with in terms of a plan or a concept, but all of the logistics and moving parts of that have to come in future meetings."
Rasmussen has said on numerous occasions she would like to see the Council make sure they handle Thomas Street different than Bridge Street was. She does not want to see another land acquisition and rebuild only a few years after completion. Rasmussen says she favors getting enough land now, so that if the concept simply needs widening in the future, they will already have what is needed.
Right now, Rasmussen says committees have to decide how much property to acquire. "There's a 72-foot right of way that was presented to us, and a 94 (foot), both of which had two travel lanes and then turn lanes, and the width of the lane, the width of the sidewalk and the bike lane and the width of the median really vary, depending on how much land is purchased, but the core design should stay the same."
Mayor Jim Tipple could not say when a final plan will come before the full council, but says the committees have some tough decisions to make first. "We're working very carefully to make sure that we're getting the input from the various committees and they approve every step-by-step as we go through it."
Again, only a concept was approved. A specific plan will be ironed out by committees before a full city council vote takes place. Tuesday's decision does allow GRAEF staff to move forward with planning.