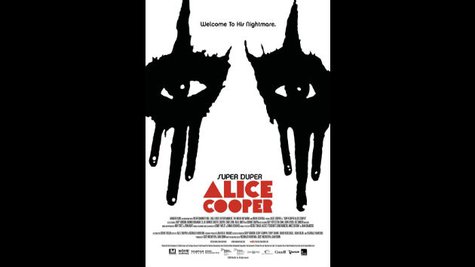 The new Alice Cooper documentary Super Duper Alice Cooper will premiere today at the 2014 Tribeca Film Festival at the Bow Tie Cinemas Chelsea 7 in New York City. The film, which is being billed as the first-ever "doc opera," tells the dramatic true story of how Vincent Furnier , a preacher's son who was born in Detroit and raised in Phoenix, grew up to be one of rock music's most outlandish entertainers.
The movie also examines Cooper's struggles with alcohol and drug abuse during the 1970s and early '80s, and his reemergence as a clean-and-sober elder rock statesman. Super Duper Alice Cooper combines archival footage and photos, animated segments and theatrical scenes with new audio interviews with Alice, members of his original band, longtime manager Shep Gordon , Elton John , Bernie Taupin , Iggy Pop , Twisted Sister 's Dee Snider , Sex Pistols singer John Lydon and others.
One of the interesting devices directors Sam Dunn , Scot McFadyen and Reginald Harkema used in the film was the integration of clips from the 1920 version of Dr. Jekyll and Mr. Hyde to reflect Cooper's struggle for identity with the character he portrayed on stage.
Cooper tells ABC News Radio that he loved the use of Dr. Jekyll and Mr. Hyde in the documentary, and recalls that "the guys came to me and they said, 'We just can't do a normal autobiography because it's Alice Cooper and that's a character that's always theatrical. We have to do something different…We were thinking about Jekyll and Hyde." Alice added that he thought the character was perfect as an analogy for his struggle.
As the film reveals, as Cooper's popularity and fame skyrocketed, he began drinking to excess while acting as if his crazy concert persona was who he was in real life.
"I think that when I was drinking there was a big, gray area of where Alice began and where I stopped," he says. "And, when I got sober I finally realized the fact that, yeah, I don't have to be this character all the time."
Although Alice went through extensive treatment for his alcoholism in the late 1970s, he relapsed in the early '80s, adding a serious cocaine problem on top of his drinking issues. The period is captured in the film in an interview clip taped during his 1981-1982 tour in support of his Special Forces album in which he appears frighteningly gaunt.
Cooper says of the segment, "I look at that and I go, 'That was another life.' I mean, that was 32 years ago, and, to me, it doesn't even seem like that was me…I mean, I know it was me but you don't really realize how deep you get into things until you [see a video like that]."
Cooper got sober for good shortly after that, and now he says he has no trouble separating his real life from that of the onstage Alice.
"I can live my life every day with my wife and my kids and go play golf and go to the mall and go to church on Sunday and do everything that a dad does, and then when it's time to play Alice, well, I look forward to that now," he tells ABC News Radio. "It's sort of like Anthony Hopkins looking forward to playing Hannibal Lecter. I mean, how much fun is that?"
Cooper will attend tonight's premiere and will take part during a Q&A session during the event.
"You can ask me anything," he says of the planned interview segment. "I have got no skeletons in the closet here, so it doesn't matter to me what you want to talk about. We'll talk about it."