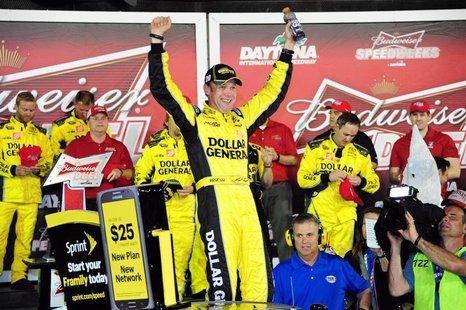 MILWAUKEE, WI (LEARFIELD-WSAU) NASCAR driver Matt Kenseth of Cambridge was named the state's pro athlete of the year last night at the third annual Wisconsin Sports Awards in Milwaukee. Kenseth was the runner-up a year ago in NASCAR's Sprint Cup Series.
Badgers' linebacker Chris Borland was honored as the college athlete of the year. Lance Leipold of U-W Whitewater received the college coach of the year award, after leading the Warhawks to a national Division-Three title.
Matt Ferris of Appleton Xavier received high school football player honors. Luke Fischer of Germantown and Arike Ogunbowale of Milwaukee Divine Savior were the boys-and-girls' prep basketball players of the year.
Germantown boys' basketball was named the top Dream Team, and Germantown's Steve Showalter was the top high school coach.
Eddie Lacy of the Packers was honored as the A-T-I player of the year, and ex-Badgers' quarterback Russell Wilson of Seattle won the Homegrown player honors.
The Green Bay Packers was named the top Fan-Friendly team. The Pack's 33-28 come-from-behind victory at Chicago in the regular season finale was the state's game of the year. Packers' quarterback Aaron Rodgers was the "Community-involved" player of the year.
Verona girls' basketball player Ebony Nettles-Bey, who's battling cancer, was honored as the state's inspirational player-of-the-year.