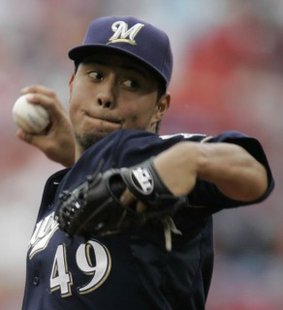 ST. LOUIS, MO (WSAU-TSN) - Khris Davis' RBI triple in the 12th inning proved to be the difference as the Milwaukee Brewers defeated the St. Louis Cardinals, 5-3, in the opener of a three-game series Monday.
Jonathan Lucroy led off the 12th with a double to left off Seth Maness (0-2) and Martin Maldonado moved him over to third on a groundout. Davis then poked one down the left-field line with two strikes but Matt Holliday trotted over to the chalk and allowed the ball to drop in foul territory so Lucroy couldn't score on a sacrifice fly.
Two pitches later, Davis pounded one into the right-field corner for his triple. He scored on a Mark Reynolds sacrifice fly in the next at-bat to account for the final margin.
Zach Duke (2-0) allowed one hit and two walks in two innings to pick up the win and Francisco Rodriguez fired a scoreless 12th for his 12th save of the season.