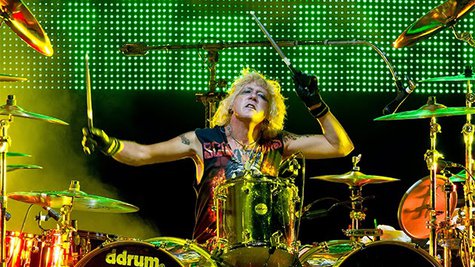 James Kottak , longtime drummer for famed German heavy-metal band The Scorpions , just got stung by the Dubai legal system. According to Dubai newspaper The National , the 51-year-old musician was sentenced to a month in prison on Tuesday after he allegedly made insulting remarks about Islam, gave the middle finger to Muslim passengers, and drank alcohol while at a local airport earlier this month.
Kottak was arrested April 3 after he and his band mates flew from Moscow to Dubai en route to a concert The Scorpions were scheduled to play in Bahrain plane on April 5, in conjunction with a Formula One grand prix race. The newspaper reports that Kotak admitted he'd consumed five glasses of wine during the flight, and became lost in the Dubai terminal.
Witnesses testified that Kottak began acting disorderly after authorities arrested him for public drunkenness. According to accounts, his actions included swearing, making comments about "non-educated Muslims," saying derogatory things about how some of the passengers smelled, and flashing his middle finger at people. Police records also claim that the rocker pulled his pants down and asked people to touch his butt.
Kottak admitted to consuming alcohol, but insisted that he didn't make insulting remarks toward Muslims or flash his middle finger. With regard to dropping his pants, James said he only pulled his shirt up to show off the tattoo on his back.
Kottak's lawyer maintained that the drummer was innocent and suggested that witnesses misunderstood what he was saying. The attorney also claimed that the witnesses contradicted each other. Still, Kottak was found guilty and received a one-month sentence, as well as a fine for about $550 for drinking alcohol without a license. However, the rocker likely will be freed soon, since he's been in custody since April 3, and the time he's already served will be deducted from his sentence.
Kottak, who was born in Louisville, Kentucky, joined The Scorpions in 1996.
Copyright 2014 ABC News Radio