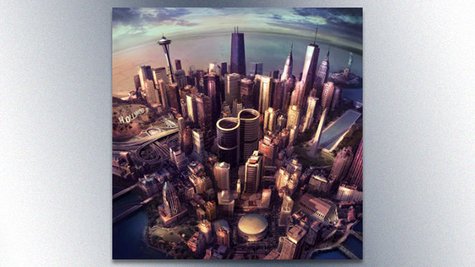 Foo Fighters frontman Dave Grohl last week teased some "big news" scheduled for today, and now he's delivered: the band's finally sharing details with fans about their new album, Sonic Highways . The disc will be released globally on November 10, and the cover art, plus a snippet of a new song, are now available at FooFighters.com .
The album was recorded in eight different cities, including New York, Seattle, Washington, D.C., New Orleans, L.A., Nashville, Austin, TX and Chicago. Frontman Dave Grohl says in a statement, "This album is instantly recognizable as a Foo Fighters record, but there's something deeper and more musical to it. I think that these cities and these people influenced us to stretch out and explore new territory, without losing our 'sound.'"

You can pre-order both the CD and 180-gram vinyl LP now at SonicHighways.Foofighters.com. The vinyl album comes with nine different covers : that's one primary cover, which is an artistic representation of all eight cities, and eight additional covers, each reflecting a specific city.
Here's the track listing for Sonic Highways:
"Something from Nothing"
"The Feast and The Famine"
"Congregation"
"What Did I Do?/God As My Witness"
"Outside"
"In the Clear"
"Subterranean"
"I Am a River"
Follow @ABCNewsRadio Copyright 2014 ABC News Radio