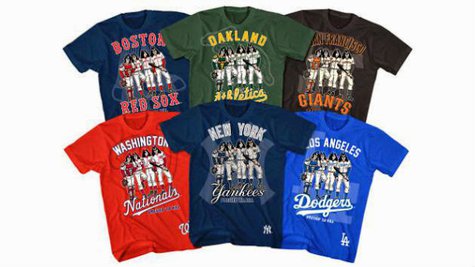 First, KISS members Gene Simmons and Paul Stanley bought a stake in a new arena football team called the LA KISS, and now the band is joining forces with Major League Baseball for a clever cross promotion. A new series of T-shirts is being introduced called the "Play Ball with KISS" collection, which combines images of the recent Rock and Roll Hall of Fame inductees with the logos of select pro baseball teams.
The first line of T-shirts is titled Dressed to Kill and is inspired by the cover of KISS' 1975 album of the same name. The shirts feature the band members posed as they were on the Dressed to Kill album, but wearing the uniforms of various baseball teams, including the New York Yankees, New York Mets, Los Angeles Dodgers, Los Angeles Angels, Chicago Cubs, Boston Red Sox, Philadelphia Phillies, Pittsburgh Pirates, Detroit Tigers, Washington Nationals, Oakland Athletics and St. Louis Cardinals. The shirts also are emblazoned with the team's name and official logo.
"We are die-hard Major League Baseball fans, and it's a thrill for KISS to be featured as MLB players from some of our favorite teams in this spectacular graphic artwork," say Simmons and Stanley in a joint statement. "We are ready to 'play ball,' with KISS and MLB fans."
A second installment of the "Play Ball with KISS" collection also is being prepared for release later in 2014 called Locker Plate, which will be inspired the band's classic tune "Detroit Rock City."
The T-shirts will be available via Major League Baseball team stores, as well as at MLB.com, stadium gift shops and various sports retailers, online stores and department stores.
Follow @ABCNewsRadio
Copyright 2014 ABC News Radio