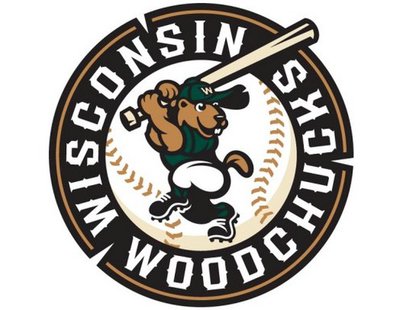 THUNDER BAY, Ont. (WSAU-Woodchucks) The Wisconsin Woodchucks held off a late rally from Thunder Bay, and clinched a playoff spot, defeating the Border Cats, 9-7, Sunday afternoon at TBayTel Park.
Woodchucks' third baseman Paul DeJong's two-run homerun in the seventh inning, his league-leading 20th homer of the year, tied the Northwoods League's single-season homerun record and proved to be the game-winner for Wisconsin.
The Woodchucks (24-14, 42-30) got the scoring started right off the bat, putting together a five-run first inning.
In that first inning, center fielder Taylor Kohlwey led off and grounded a base hit to center field. With one out, first baseman Brendon Hayden blooped an RBI double down the left field line. After third baseman Paul DeJong walked, second baseman Blair Beck lined an RBI double down the left field line, spotting the Chucks to a 2-0 lead. Shortstop Ryan Howard then brought home both with a three-run homer off the scoreboard in left-center. Howard's fourth homer of the year made it 5-0 in favor of Wisconsin.
The Woodchucks tallied two more runs in the fifth inning, as the elder Beck doubled home a run for the second time today and Howard drove in his fourth run of the game with an RBI single, making it 7-0.
Thunder Bay cut scored three in the fifth and one in the sixth to cut the lead to 7-4, but their astronomical 16 runners left on base came back to bite them.
After Hayden led off the Chucks' seventh with a single, DeJong came through with the game-winning dinger, making the lead 9-4 at the time. The Chucks had to fend off a late rally from the Border Cats, but they did so in clinching their playoff berth.
Lefty Austin Tribby picked up the save, his sixth of the year, in recording the final three outs. The win went to right-hander Brian Howard, who improved to 3-1 in throwing five innings, surrendering three runs on eight hits while striking out three and walking four.
The Woodchucks will host game one of the three-game playoff series with the Lakeshore Chinooks Monday night at Athletic Park. First pitch is scheduled for 7:05 pm.