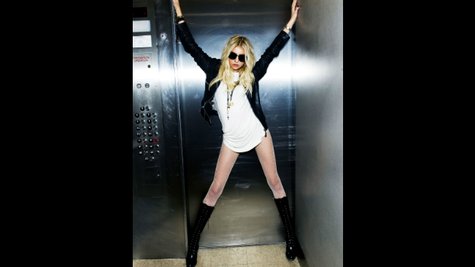 "Heaven Knows," from The Pretty Reckless ' second album, Going to Hell , has now spent more than half a year on the Billboard rock song charts. That's impressive longevity for anyone, especially a band that critics were dying to dismiss as merely a vehicle for the pretty face of actress-turned-singer Taylor Momsen .
It turns out that the band members themselves had doubts about the album -- not its sonic strength, but its ability to generate singles. Guitarist Ben Phillips tells ABC News Radio, "I didn't think there were any singles [on the album]." Taylor Momsen agrees: "We thought [ Going to Hell ] was gonna be our b-side record."
Phillips explains, "The whole album is a string of songs that kind of went together. Like 'Heaven Knows' was a vignette between 'Going to Hell' and a song called 'House on the Hill'...so it's very weird for us to see 'Heavens Knows' as a single."

The Pretty Reckless have a few festival dates scheduled for August before headlining their own fall tour, which kicks off on September 10 at the House of Blues in Boston.
Follow @ABCNewsRadio Copyright 2014 ABC News Radio