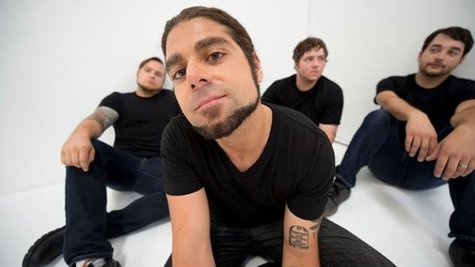 Coheed and Cambria frontman Claudio Sanchez may be a new father -- he and his wife welcomed their first child earlier this summer -- but he's now slowing down. Sanchez and the band have announced not only a remaster of the classic Coheed album In Keeping Secrets of Silent Earth: 3 , but also that work has begin on a new collection of songs. Oh, and also a fall tour, where they'll be playing IKSSE3 in its entirety, front to back.
First, the remaster: it'll be a vinyl-only affair, mastered straight from the original analog recordings, and will come in three forms: a 180-gram black double-vinyl set, and also in two varieties of colored vinyl -- tan splatter and grey splatter. The grey is the rarer of the two and will only be available online direct from the band, at CoheedAndCambria.com/iksse3 , while the tan set will only be available on the band's fall tour stops beginning September 5. The black set will hit the usual retailers October 21.
Now for the new stuff: in an interview with Billboard , Sanchez says, "I've been working on some material for the last year and a half or so when we were living in Brooklyn, which I found kind of inspiring and not so inspiring." Apparently, the "not so inspiring" won out, as Sanchez has vacated the greater New York City area for a rural, upstate area of New York. "[The new material is] veering off in a slightly different direction, but it's still Coheed," he said. "Not so much a direction as much as a feeling."
Sanchez further reveals, "There are songs about my son and about living on an island -- metaphorically in a city -- and feeling trapped and then returning to the vast openness of the country and feeling a relief there. There's a lot of those ups and downs, and tonality-wise it feels very open." He says he hopes the material will be studio-ready by January.
Here are the Coheed and Cambria tour dates:
9/5 -- Municipal Auditorium, Riverside, CA
9/6 -- The Wiltern, Los Angeles, CA
9/7 -- Fox Theater, Oakland, CA
9/9 -- Paramount Theater, Seattle, WA
9/10 -- Roseland Theater, Portland, OR
9/12 -- The Complex, Salt Lake City, UT
9/13 -- Fillmore Auditorium, Denver, CO
9/15 -- South Side Ballroom, Dallas, TX
9/16 -- Stubbs Waller Creek, Austin, TX
9/17 -- House of Blues, Houston, TX
9/19 -- House of Blues, Lake Buena Vista, FL
9/20 -- House of Blues, North Myrtle Beach, SC
9/21 -- The Fillmore Charlotte, Charlotte, NC
9/23 -- The Fillmore, Silver Spring, MD
9/24 -- Tower Theatre, Upper Darby, PA
9/25 -- Wellmont Theater, Montclair, NJ
9/27 -- Hammerstein Ballroom, New York, NY
9/28 -- House of Blues, Boston, MA
9/30 -- The Fillmore Detroit, Detroit, MI
10/1 -- Kool Haus, Toronto, ON
10/2 -- House of Blues, Cleveland, OH
10/4 -- Skyway Theatre, Minneapolis, MN
10/5 -- House of Blues, Chicago, IL
10/6 -- Mercury Ballroom, Louisville, KY
10/7 -- Tabernacle, Atlanta, GA
Follow @ABCNewsRadio
Copyright 2014 ABC News Radio