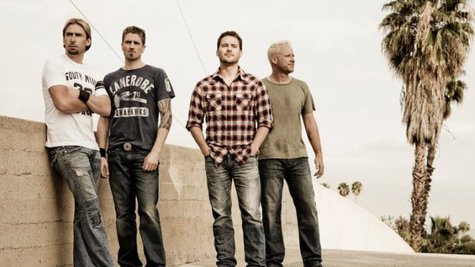 The members of Nickelback are the latest celebrities to take the ALS Ice Bucket challenge of dumping ice water on their heads and then nominating other people to do the same, all to raise money for and awareness of ALS, or Lou Gehrig's disease. And the stars they've called out are quite an eclectic bunch.
In a YouTube video , Nickelback members Chad Kroeger, Mike Kroeger and Ryan Peake dump big plastic containers of ice water over their heads and announce that the first person they nominate to do the same is their drummer, Daniel Adair , who didn't show up for the video. They also want the members of Foo Fighters to take the challenge, as well as Bill Murray and, of all people , Mr. T. We pity the fool who asks Mr. T to dump ice water on his head and ruin that Mohawk of his.
In other Nickelback news, they just released a new single, "Edge of a Revolution," from their upcoming album. Chad Kroeger says the song was inspired by "watching the news and understanding the mindset of people all over the world right now who are willing to do whatever's necessary to change their living conditions for the better."
The new album's due in November; a tour will follow in 2015.
Follow @ABCNewsRadio Copyright 2014 ABC News Radio