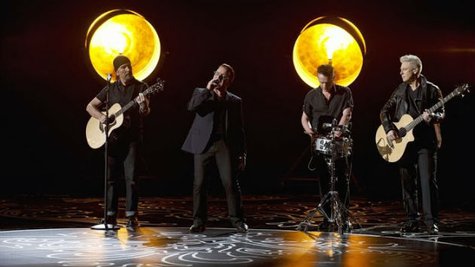 Back in March, a U2 rep told U.K. newspaper The Guardian that the Irish rockers were planning to release their long-awaited new album sometime this year, contrary to a then-recent report from Billboard suggesting that the record wouldn't arrive until 2015. Now, more evidence has emerged that the band's follow-up to 2009's No Line on the Horizon will indeed be released in 2014, and could even hit stores before the end of October.
A U2 spokesperson tells Rolling Stone , "We've always said an album is expected this year." In addition, a rep for the band's label confirmed to the usually reliable fan site AtU2.com earlier this month that the record will be released in 2014.
Meanwhile, The Irish Times reported in a recent article that "a music industry source" shared some more specific predictions about the time frame for the album's arrival, as well as about a tour in support of the record.

"[There will be a] single in September, album September-October, tour announced December, first date April next year," the source said. "The album has been actually been finished for a few months, but a decision was taken not to release during the summer months because of holidays, etc." The source also claimed that the group was plotting to put out the record "with little of the fanfare usually associated with a new U2 album."

In other news, French newspaper Nice-Matin reported that U2 was in Nice, France, last week shooting a new video.
The band has worked on tracks for the album with a variety of respected producers, including Danger Mouse , Paul Epworth , David Guetta , RedOne , Ryan Tedder and Will.i.am . When the new album is released, it will be the longest they've worked on a single album.
Follow @ABCNewsRadio
Copyright 2014 ABC News Radio