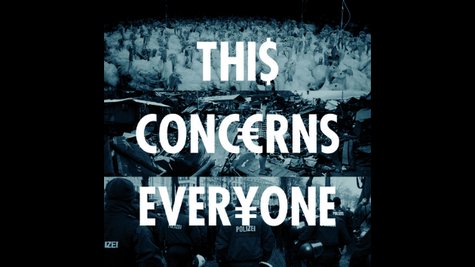 Rage Against the Machine 's Tom Morello and Rise Against 's Tim McIlrath are two of the artists featured on a upcoming collection of protest songs called This Concerns Everyone .
The album will benefit the Right to Heal Campaign -- a joint venture between the Iraq Veterans Against the War, the Organization of Women's Freedom in Iraq and the Federation of Workers Councils and Unions in Iraq -- and will be released November 18 by A-F Records, the indie label that veteran punk band Anti-Flag calls home.
Morello, who has recorded several albums of politically charged music as The Nightwatchman , contributes an acoustic version of his song "House Gone Up in Flames" to the compilation. He says, "I decided to rock [that song] because it's one of my favorite songs I've ever written. Conjured in the midst of a 104-degree fever in an Italian hotel room, I wasn't sure if I was going to live or die. But I knew if I survived, I was gonna have a helluva political Molotov of a song on my hands."
You can check out the new version of "House Gone Up in Flames" now at the A-F Records website .
Follow @ABCNewsRadio
Copyright 2014 ABC News Radio