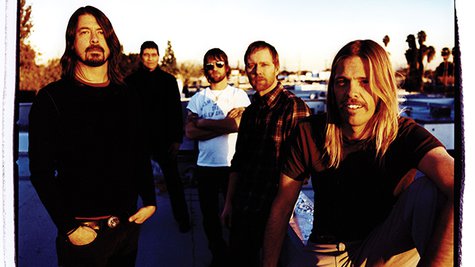 HBO has posted a new trailer for the Foo Fighters ' upcoming mini series, Sonic Highways . The show will chronicle the making of the band's forthcoming album of the same name, for which the Foos traveled across America, from recording studio to recording studio, using local musicians to craft new songs often in a very short time.
"I really believe that the environment in which you write or record an album influences the musical result," says Foo Fighters frontman Dave Grohl in the three-and-a-half minute clip, which shows the band recording at Preservation Hall in New Orleans, among other places.
"It all started with the idea of recording at different studios all over the country," Grohl adds. "Working with different musicians, producers and studio owners, you can tie all of these people and places together with these sonic highways."
The promo video includes flashing clips of famous musical figures talking about various cities -- Willie Nelson mentions Austin, Texas; Slash mentions Los Angeles; Clive Davis , New York -- and also includes a scene of Grohl shaking hands with President Obama in what appears to be the White House.
The show premieres October 17 at 11 p.m. on HBO. The album is due November 10.
Follow @ABCNewsRadio
Copyright 2014 ABC News Radio