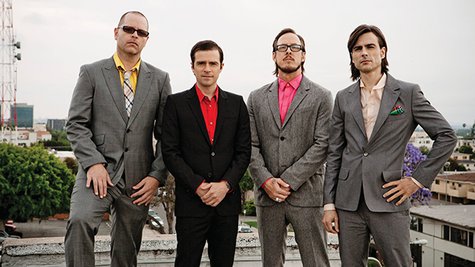 Fans waiting for Everything Will Be Alright in the End , Weezer 's first album since 2010, will have to wait a little longer. The band has pushed back the scheduled release date, but just by one week, from September 30 to October 7.

In a message posted to the band's Tumblr account, Weezer says the "recording sessions for EWBAITE are finished, and finished on time as planned. However, we've unfortunately learned some additional news that's not so cool - We have to release EWBAITE one week later than planned, on Oct 7. This is a bummer and we really hate to make our fans wait longer. We worked very hard to finish the album on time for you, so we're really sorry about this and hope you understand."
As a reward to fans who pre-ordered the album via PledgeMusic, the band will be issuing a new song from the album to those folks on September 30.
The group also used the latest installment of its web video series Weezer Wednesdays to reveal the album's track list. Here it is:
"Ain't Got Nobody"
"Back to the Shack"
"Eulogy for a Rock Band"
"Lonely Girl"
"I've Had It Up to Here"
"The British Are Coming"
"Da Vinci"
"Go Away"
"Cleopatra"
"Foolish Father"
"The Futurescope Trilogy":
a. "The Wasteland"
b. "Anonymous"
c. "Return to Ithaca"
Follow @ABCNewsRadio
Copyright 2014 ABC News Radio