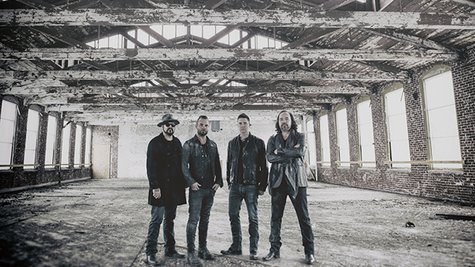 Live is back. The band -- with a new singer -- will release a new album called The Turn this fall, eight years after the last Live studio release, Songs from Black Mountain . This collection will be the band's first with Chris Shinn at the mic, after extensive legal wranglings with former singer Ed Kowalczyk . The Turn will be released October 28.
In a statement, Live founding member Chad Taylor said that his band needed "a veteran artist that brought a new dimension of musical skill and credibility to the table. The only name suggested by all three of us was Chris Shinn. There was no audition process. We simply called our friend and asked if he wanted to make...music."
Fans can pre-order The Turn through Live's PledgeMusic campaign , with a portion of the proceeds going to Musicians On Call, which provides music to people confined to health care facilities. Other packages are available for varying pledge amounts, including a half-hour Skype guitar lesson with Taylor for $100.
Here is a track listing for The Turn :
"Sirens Call"
"Don't Run to Wait"
"Natural Born Killers"
"6310 Rodgerton Dr."
"By Design"
"The Way Around Is Through"
"Need Tonight"
"The Strength to Hold On"
"We Open the Door"
"He Could Teach the Devil Tricks"
"Till You Came Around"
Follow @ABCNewsRadio Copyright 2014 ABC News Radio