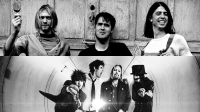 To hear Vince Neil tell it, you'd never know that there was ever any hard feelings between heavy metal and grunge.
The Mötley Crüe singer tells the U.K.'s Q magazine that he and his band mates weren't threatened by the early grunge movement; in fact, they were totally into it. "We went on [MTV's] Headbanger's Ball and we'd had an early pressing of [ Nirvana 's] Nevermind , he says. "We were talking about a bunch of upcoming bands and told people to check that album out."
In addition, Neil slags metal rockers who bad-mouthed grunge. "Only people whose careers were on the way out said that," he says. "We supported that whole thing. I don't know why people say grunge killed rock."
Apparently, the love between Mötley Crüe and Nirvana was a two-way street. Neil says, "I was talking to Courtney Love one time and she told me that one of Kurt [ Cobain ]'s favorite records was [Mötley Crüe's 1981 album] Too Fast for Love ."
The entire interview is available in the new print version of Q magazine.
Follow @ABCNewsRadio
Copyright 2014 ABC News Radio