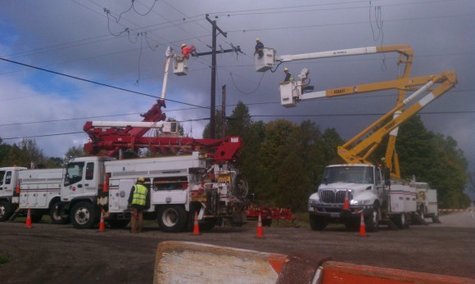 UPDATE: Wisconsin Public Service is reporting that power has been restored as of 2:15 this afternoon. WPS community relations Kelly Zagrzebski says an equipment failure at a substation in Whiting was the culprit. "We actually had a guide wire in our substation in Whiting, there was some issue with it which actually caused the outage to around 5000 customers."
Zagrzebski says crews have the scene secured. "The crews are investigating that now, but the number one priority is making sure the area is safe. Number two is restoring the power, number three comes into the investigation of what was the cause."
-------
STEVENS POINT, Wis. (WSAU) -- The lights are out east of Stevens Point this afternoon as some 5000 Wisconsin Public Service customers are without power.
Integrys spokesman Todd Steffen says they're trying to sort it out right now. "We dispatched our crews out to see what the problem was, and they're out there now trying to see what went wrong." The outage includes the towns of Linwood, Stockton, Sharon, Hull and the the northeast side of Stevens Point.
Steffen says he's hopeful this will get sorted out soon. "Nice part about it is it's daylight so they can see what's going on. And we're hoping that by mid afternoon we should have things figured out and power restored."
You can track the outage online at http://www.wisconsinpublicservice.com/outagesummary/view/outagegrid.aspx