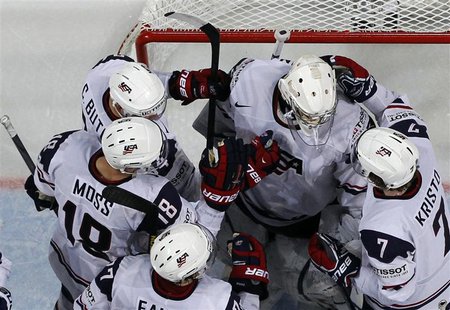 SOCHI, RUSSIA (LEARFIELD-WSAU) The U-S men's Olympic hockey team won its quarter-final game against the Czech Republic, 5-to-2 this afternoon in Sochi.
Madison native and former Wisconsin Badger Ryan Suter had three assists. Madison area native Phil Kessel scored the Americans' final goal. Ryan McDonagh and Plover native Joe Pavelski -- both ex-Badgers -- had one assist apiece, as the Americans improved to 4-and-0 for the tournament.
They scored three goals in the first period against the Czechs, and cruised from there. The U-S is scheduled to play Canada at 10 o'clock Friday morning in the men's semi-finals.
Canada advanced with a 2-to-1 victory over Latvia. Sweden and Finland also won their quarter-finals, and they'll play in the other semi-final at 5 a-m on Friday.