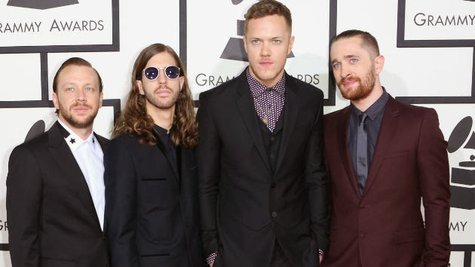 Imagine Dragons ' breakthrough smash "Radioactive" has made history: it's set a new record for the longest time spent on the Billboard Hot 100 chart.
"Radioactive" has just logged its 77th week on the chart , breaking the previous record of 76 weeks held by pop star Jason Mraz's hit "I'm Yours." "Radioactive," which currently sits at #26 on the chart, first debuted on the Hot 100 way back in August of 2012. It's since sold 6.6 million downloads, according to Nielsen SoundScan.
Imagine Dragons frontman Dan Reynolds tells Billboard that the longevity of "Radioactive" is "unbelievable."
"We could never have expected to see one of our songs have legs like this," Reynolds told the magazine. "People seem to be connecting to it in personal ways, which is exactly what we hoped for. We've been out on the road and focused on touring for a long time. Somewhere along the way, we started to realize the song was taking on a life of its own."
Hot on the heels of "Radioactive" is AWOLNATION 's "Sail," which has now logged 76 weeks on the chart, tying the previous record held by "I'm Yours." That song spent 76 weeks on the chart in 2008 and 2009. "Sail" is currently sitting at #40.
Copyright 2014 ABC News Radio