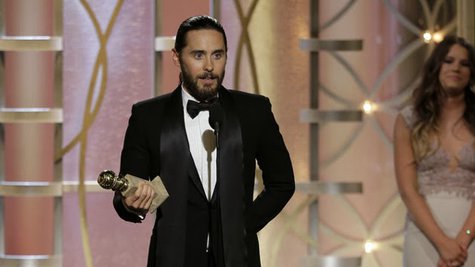 After focusing on 30 Seconds to Mars for six years, frontman Jared Leto decided to return to acting, and ended up earning an Oscar nomination for his role as a transgendered woman in the film Dallas Buyer's Club . With the Academy Awards ceremony approaching -- it'll air on ABC on March 2 -- Leto says he's having such a great time making the award-show rounds, he doesn't want it to end.
Leto tells People magazine, "I wish I could stay nominated forever. Then no one has to lose, and we all get to celebrate." Among the highlights, he says, have been receiving kind comments from Oprah Winfrey at the SAG Awards, and getting to chat with fellow nominee Bruce Dern , star of Nebraska . "To meet these people who have done such great work has been fantastic," Jared tells People.
Of course, when the awards fun comes to an end, Leto still has music to return to. He and 30 Seconds to Mars are starting a major tour that will take them to Europe, Asia, South America, Australia and South Africa. "I love traveling incessantly," says the singer. "A lot of people wouldn't like the instability. It makes having a relationship and family difficult."
Speaking of relationships, he's recently been rumored to be dating everyone from 12 Years a Slave star Lupita Nyong'o to Miley Cyrus , but Leto says he has no time for romance. "Right now I think about what's in front of me," he says. "I love the work."
Copyright 2014 ABC News Radio