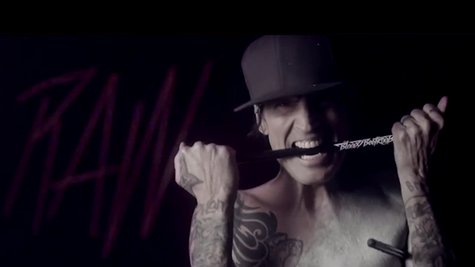 Tommy Lee 's latest musical project is a featured spot in a song by Italian dance/punk outfit The Bloody Beetroots . The tune is called "RAW" and the video can be seen on Lee's website, TommyLee.com . Lee plays drums on the song but also takes on vocal duties.
This isn't the first time that the Motley Crue drummer has sung -- he often took lead vocal duties for his solo band, Methods of Mayhem , and played a variety of instruments as well. Lee also appears with former Methods of Mayhem member DJ Aero . Not just content to sit behind a drum kit, Lee tells ABC News Radio, "In some weird way I've always wanted to be a frontman. Even in Motley, when it comes time to do a drum solo, I'm the first guy to take that stuff out over everybody's heads, or spin upside down, or make a spectacle. I guess at a young age, I never really understood why the drummer always sat way in the back."
Lee also tells ABC News Radio that there's no such thing as real time off from music for him. "I'm one of those guys, you know, I play a lot of instruments. I play guitar, play drums, play bass, play piano, keyboards," he says. "I really enjoy all of it, so any chance I can get to [play anything]...I jump at it."
Motley Crue's farewell tour kicks off on July 2 in Grand Rapids, Michigan.
Copyrioght 2014 ABC News Radio