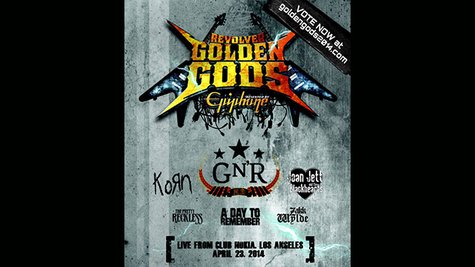 This year's Revolver Golden Gods Awards nominees have been announced. Leading the way are Avenged Sevenfold and Five Finger Death Punch with six nominations each, including in the category of best album where Avenged Sevenfold's Hail to the King will square off against FFDP's The Wrong Side of Heaven and the Righteous Side of Hell, Volume 1 and 2 .
Also receiving nods are Queens of the Stone Age , Korn, Volbeat , Rob Zombie and Black Sabbath among others.
Joan Jett will make history by being the first female to ever receive Revolver 's Golden God award, which is given annually to one honoree who "embodies the spirit of hard rock and metal." Jett joins past Golden God recipients including Gene Simmons , Rob Zombie and Alice Cooper . In a statement Cooper, who will present the award to Jett, says, "No one deserves this award MORE than Joan Jett. She's never compromised who she is -- she's a rocker through and through. I wish some of the younger bands had the balls that Joan Jett does!"
Axl Rose will receive this year's Ronnie James Dio Lifetime Achievement Award. The Guns n' Roses frontman will join the ranks of past honorees Rush , Ozzy Osbourne , Metallica and Lemmy Kilmister of Motorhead .
The awards ceremony will be held at Los Angeles' Nokia Theater on April 23 and will feature live performances from Joan Jett, Guns N' Roses, Korn, Zakk Wylde, The Pretty Reckless , A Day to Remember and others not yet announced.
Here are the nominees for this year's Revolver Golden Gods Awards:
Album of the Year
Hail to the King -- Avenged Sevenfold,
13 -- Black Sabbath,
The Wrong Side of Heaven and the Righteous Side of Hell, Volume 1 and 2 -- Five Finger Death Punch
The Paradigm Shift -- Korn
…Like Clockwork -- Queens of the Stone Age
Outlaw Gentlemen & Shady Ladies -- Volbeat

Best Vocalist
Jeremy McKinnon (A Day to Remember)
M. Shadows (Avenged Sevenfold)
Ivan Moody (Five Finger Death Punch)
Papa Emeritus II (Ghost B.C.)
Jonathan Davis (Korn)
Josh Homme (Queens of the Stone Age)

Dimebag Darrell Best Guitarist(s)
Jerry Cantrell (Alice in Chains)
Synyster Gates & Zacky Vengeance (Avenged Sevenfold)
Tony Iommi (Black Sabbath)
John Petrucci (Dream Theater)
Zoltan Bathory & Jason Hook (Five Finger Death Punch)
Munky & Head (Korn)

Paul Gray Best Bassist
Johnny Christ (Avenged Sevenfold)
Geezer Butler (Black Sabbath)
Chris Kael (Five Finger Death Punch)
Rex Brown (Kill Devil Hill)
Fieldy (Korn)
Emma Anzai (Sick Puppies)

Best Drummer presented by Razor & Tie
Arin Ilejay (Avenged Sevenfold)
Brad Wilk (for his work with Black Sabbath)
Vinnie Appice (Kill Devil Hill)
Matt Halpern (Periphery)
Chris Adler (for his work with Protest the Hero)
Mike Portnoy (The Winery Dogs)

Best Live Band
The Dillinger Escape Plan
Gojira
Lamb of God
Mötley Crüe
Slayer
Rob Zombie

Song of the Year presented by Randall Amplifiers
"Hollow" -- Alice in Chains
"Hail to the King" -- Avenged Sevenfold
"Shadow Moses" -- Bring Me the Horizon
"Lift Me Up" -- Five Finger Death Punch
"You're Not Alone" -- Of Mice & Men
"Going to Hell" -- The Pretty Reckless

Best Film & Video presented by Eagle Rock Entertainment
"Blow Your Trumpets Gabriel" -- Behmoth
"Zenith" -- Huntress
As the Palaces Burn -- Lamb of God
Through the Never -- Metallica
"America" -- Motionless in White
This is a Wasteland -- Pierce the Veil

Best New Talent presented by Victory Records
Deafheaven
Heaven's Basement
Issues
Scar the Martyr
Twelve Foot Ninja
††† (Crosses)

Comeback of the Year
Black Sabbath
Carcass
Deep Purple
Nine Inch Nails
Queens of the Stone Age
Suicidal Tendencies

Most Metal Athlete
Tony Alva (skateboarder)
Grant Balfour (MLB)
Josh Barnett (mixed martial artist, UFC)
Stephen Curry (Golden State Warriors, NBA)
Derek Garland (Metal Mulisha, motocross)
Tuukka Rask (Boston Bruins, NHL)

Most Dedicated Fans
A Day to Remember
Avenged Sevenfold
Five Finger Death Punch
Of Mice & Men
The Pretty Reckless
Copyright 2014 ABC News Radio