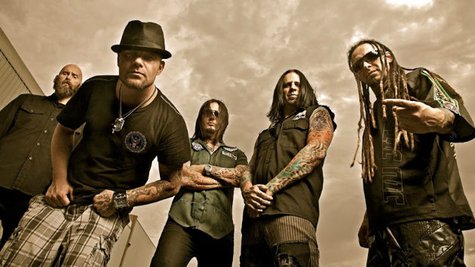 If the holiday blues have got you down, Zoltan Bathory is offering you this sage advice: be fearless. The Five Finger Death Punch guitarist recently posted a note on his Facebook page to encourage any of the band's fans who are combating depression to make bold choices in the new year.
"In a weird way hitting rock bottom could be the best thing [to] ever happen to you, because you don't have the luxury to be complacent anymore," Zoltan writes. "When s**t hits the fan it should light some fire under your a**, this is the time to make fearless leaps."
The guitarist adds, "fearlessness is the ultimate power," and says you should use that to motivate you to change your situation. "You always fight harder when you're backed into a corner," he explains. "Life just made this mistake...it put you in the corner with no escape. This is your time to turn on 'beast mode' [and] do the things you were afraid to do (legal ones)."
While Bathory hopes his pep talk will make you feel better about facing the new year, he advises that you call the National Suicide Prevention Lifeline at 800-273-8255 if you need professional help.
Copyright 2014 ABC News Radio