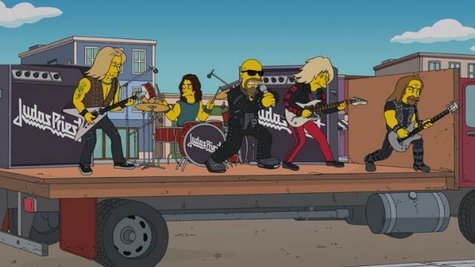 Judas Priest is headed to Springfield this weekend. The band just announced they'll be making an appearance on the long-running animated series The Simpsons on Sunday night.
Titled " Steal This Episode ," the show will focus on Homer and Bart getting into trouble for illegally downloading movies. While the band is staying mum about what they'll be doing on the show, they posted animated stills of frontman Rob Halford screaming into a microphone, as well as a shot of the band performing on the back of a flatbed truck.
Other guest stars that will make guest appearances on the upcoming episode include actors Will Arnett , Leslie Mann , Seth Rogen , Paul Rudd , Channing Tatum and director Judd Apatow .
The Simpsons airs on Fox at 8 p.m. ET/PT.
Copyright 2014 ABC News Radio