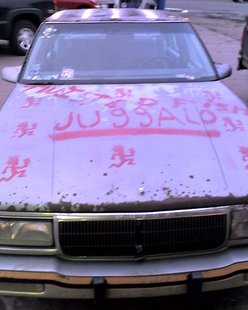 Insane Clown Posse has filed a lawsuit against the U.S. Justice Department and the FBI.
The New York Times reports the complaint, filed by the ACLU in a Detroit federal court on behalf of the Michigan-based rap group on Wednesday, stems from a 2011 FBI report that classified Insane Clown Posse fans, known as Juggalos, as a "gang." The report cited incidents in which, the FBI said, suspected Juggalos had committed crimes such as assault.
Insane Clown Posse members Joseph Bruce and Joseph Utsler contend the report has caused their career "significant harm."
Aside from Bruce and Utsler, the lawsuit's plaintiffs also include four fans who say they have been negatively impacted by the report.
Copyright 2014 ABC News Radio