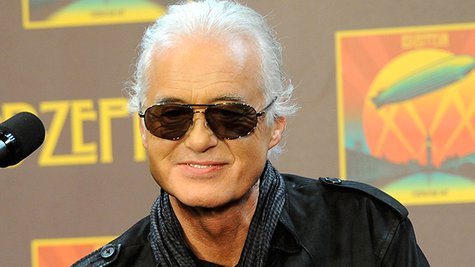 Here's wishing a very Happy Birthday to Led Zeppelin 's Jimmy Page , who turns 70 on Thursday, January 9. The influential guitarist is not only responsible for creating many of the most iconic riffs in rock history but he also produced all of Led Zeppelin's albums and co-wrote nearly every one of his famous band's songs.
Early in his career, Page established him as one of the U.K.'s top session guitarists, playing on well-known recordings by everyone from The Who and The Kinks to Donovan and Petula Clark . In 1966, he joined the famed blues-rock group The Yardbirds , first as the band's bassist, and eventually replacing Jeff Beck as its lead guitarist. When The Yardbirds lineup began to fall apart in '68, Page re-formed the band with three very talented new members -- singer Robert Plant , bassist John Paul Jones and drummer John Bonham . The group, of course, soon was rechristened Led Zeppelin.
While many music critics initially spurned Zeppelin, the band immediately was embraced by rock fans around the world, and its self-titled 1969 debut album would be the first of a decade-long string of multiplatinum records for the group. Brad Tolinski , editor-and-chief of Guitar World magazine and author of the 2013 book Light and Shade: Conversations with Jimmy Page , says he thinks Page's experiences as a studio musician and with The Yardbirds laid the groundwork for the music he would help create with Led Zeppelin.
While Led Zeppelin is considered one of the greatest hard-rock acts of all time, Tolinski points out that Page's versatility and multifaceted skills as a guitarist gave the band a depth not seen in most of its contemporaries.
"He could play blues and could do the psychedelic thing like [ Jimi ] Hendrix , but he could also do a folk thing like Neil Young or Stephen Stills ," Tolinski maintains. "Or he could do an atmospheric thing like Pink Floyd …and then introduce other elements, like the world music elements or the Middle Eastern elements."
Tolinski also notes that music fans often overlook "what a great writer and arranger and producer [Page] is." He applauds the subtle quality of Jimmy's arranging and writing skills, pointing out that many of Led Zeppelin's greatest such, like "Stairway to Heaven" and "Kashmir," have no chorus.
"I asked Jimmy about that once," recalls Brad, "and he said, 'It's because I want to make the whole song a hook. Every last bit of it.'"
Led Zeppelin broke up in 1980 after the tragic death of Bonham at the age of 32. Page went on to work on a variety of projects during the 1980s and '90s, including a pair of albums by supergroup The Firm , which also featured Free / Bad Company singer Paul Rodgers ; a couple of collaborative albums with Plant and one with Whitesnake 's David Coverdale ; a solo record; and a few movie soundtracks.
Page also sporadically reunited with Plant and Jones under Led Zeppelin banner, most recently for a historic December 2007 concert in London that was documented for the Celebration Day album and video. While no new Zeppelin reunion seems to be on the horizon, fans will soon be able to buy the first in a series of expanded reissues of the group's studio albums that Page is overseeing.
Meanwhile, in honor of Page's 70th birthday, his former Firm band mate Rodgers has issued a statement that reads, "He is an international treasure and has been an inspiration to an entire generation. Possibly one of the greatest guitar players ever. I am proud to have worked with him and proud to call him my friend."
Copyright 2014 ABC News Radio