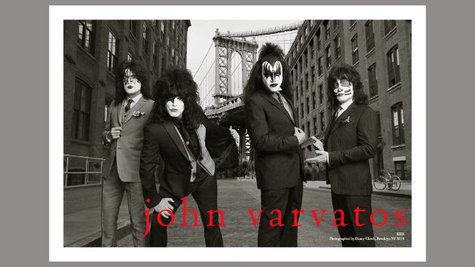 Coinciding with KISS ' impending induction into the Rock and Roll Hall of Fame in April, the band's current lineup stars in a new advertising campaign for designer John Varvatos ' spring 2014 clothing line. The ads, which also serve to preview a fall 2014 KISS-themed line of apparel, were inspired by the band's classic 1975 album Dressed to Kill , and feature the group's four members sporting sharp suits while posing on a street in Brooklyn, New York.
KISS also appears in a promotional video that includes footage of the band playing a surprise, invite-only show at the for John Varvatos store in New York City's Lower East Side. The clip includes footage of the group performing "Dressed to Kill" and Rock and Roll All Nite," brief scenes of the band members putting on their stage makeup, and commentary from Gene Simmons and Paul Stanley about their experiences in KISS.
"I probably have a loose screw someplace in my head, otherwise I wouldn't be wearing more makeup and high heels than your mommy," jokes Simmons. "And boy, do I look good!"
Adds Stanley, "This is my battle gear. This is my war paint. I go up there [on stage] to have a great time, but I'm dead serious, with all guns loaded and a six-string guitar that can kill."
Speaking about working with KISS on the new campaign, Varvatos says, "I was taken by how much everybody, regardless of their age, loves them. For me, it is the idea of the superhero, a man in disguise with incredible powers, that makes the KISS myth so enduring and appealing, and it's exactly that mindset that I wanted to explore, adding a dash of fantasy to my work while keeping tailored finesse and elegance high on the agenda."
Copyright 2014 ABC News Radio