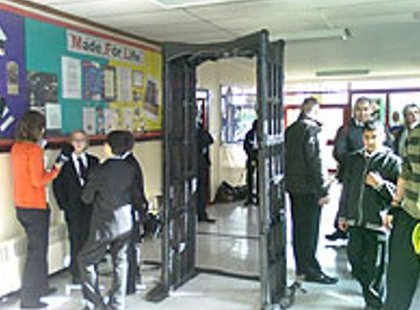 STEVENS POINT, Wis. (WSAU) -- Keeping courthouses safe is a challenge that is much different than it was twenty years ago. New facilities and remodelled courthouses are often designed to keep the public, court officials, and prisoners in three separate areas. If your courthouse is older, such as in Portage County, everyone is in the same halls and rooms. Chief Deputy Sheriff Dan Kontos says that requires a staff of six deputies to provide courthouse security.
Kontos says part of the security team's duties is screening people for dangerous objects and weapons before they get to the courtrooms. "Last year, for 2013, we screened over 38,000 people. We found over 600 knives that were brought in, and over 150 other weapons including firearms. Most of those are because people don't realize they can't have them there."
Wisconsin has had concealed carry permits for about two years, but don't expect to see anyone but an officer carrying a weapon in a courthouse. "The law specifically states that concealed carry permit holders aren't allowed to have a firearm in the courthouse at all, so we don't need to have signs posted or a security checkpoint, that's just the law, and anyone who's got a permit ought to know that."
Kontos says keeping court staff, prisoners, and the public safe is a bigger challenge than it used to be. "And it's also changing times. Things are different than they were years ago, and that's why not only do we have to have armed officers on the courthouse floor, but the county board is looking at redesigning the courts to make sure that they are safe and meet the modern requirements of a courthouse."
The county board is also paying attention to the jail. It is in a separate building from the courthouse, and doesn't hold enough prisoners. Portage County currently contracts with Waupaca County to house about 50 inmates at a cost of over $1,100 a day.