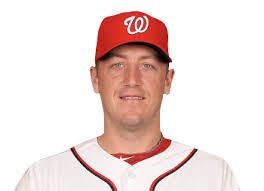 WASHINGTON DC (LEARFIELD-WSAU) Pitcher Jordan Zimmermann will stay with the Washington Nationals. The former U-W Stevens Point starter from Auburndale avoided salary arbitration yesterday.
He signed a two-year contract worth 24-million dollars. He'll get most of that in 2015, when reports say he'll get 16-and-a-half million. There was some talk that Zimmermann could be traded if he didn't sign a contract extension soon. But he said he knew all along it wouldn't happen, and he's happy to get his deal finished so he can focus on baseball.
Zimmermann was the ace of the Nationals' pitching staff last year with a team-leading 19 wins and over 200 innings pitched. He threw a one-hitter against Cincinnati in late April, and was invited to his first All-Star Game -- although he couldn't go due to an injury at the time.