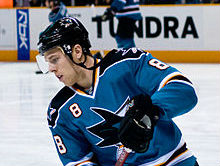 TAMPA, FLA. — A Wisconsin hockey favorite had a hot second period in the NHL game between the San Jose Sharks and the Tampa Bay Lightning Saturday night. Plover native Joe Pavelski had a hat trick, scoring three goals in that period, en route to a Sharks 5-4 victory.
Pavelski had two of the three goals in a 21 second stretch, and all three within seven minutes and thirty-four seconds against goalie Ben Bishop.
One other player had a better night on the ice. Tampa Bay's Martin St. Louis scored all four of the Lightning's goals, tying a franchise record.
Pavelski has played for Stevens Point Area High School, University of Wisconsin, and then the Waterloo Blackhawks. He joined the NHL's San Jose Sharks in 2006. Pavelski has also been named to the upcoming U.S. Olympic Hockey Team.