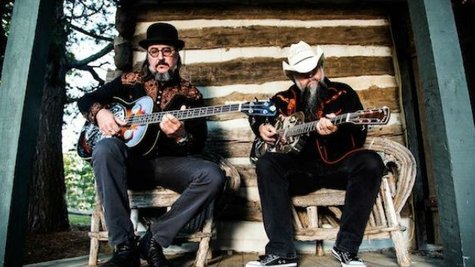 Les Claypool is sharing another cut from his new side project, Les Claypool's Duo de Twang . The band is offering a preview of their bluegrass interpretation of Alice in Chains ' 1991 hit single, "Man in the Box," which you can hear at SPIN.com .
While the Primus frontman didn't provide much information about why he decided to cover the track, he tells the publication his version is "a tribute to my buddy [Alice in Chains guitarist] Jerry Cantrell ."
Duo de Twang's debut album, Four Foot Shack , arrives at all the usual outlets on February 4. It includes one new track, along with a variety of covers from his own catalog and cuts from The Bee Gees , 1960s rockers The Chantays , and late country singer/songwriter Jerry Reed .
Claypool is currently out on tour with Primus overseas, but he'll be back with Duo de Twang for a string of North American dates next month. That outing begins on February 27 at The Heath at McKittrick Hotel in New York City. Visit LesClaypool.com for the full itinerary.
Copyright 2014 ABC News Radio