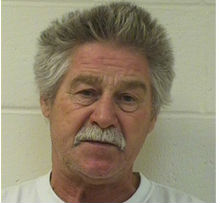 WAUSAU, Wis. (WSAU) -- Some people will try anything to get a friend or family member out of jail, including impersonating an officer.
63-year-old Bradley Woodward of Wausau has been charged with impersonating a peace officer and obstructing an officer after a November incident at the Marathon County jail. The complaint says Woodward called the jail requesting reduced charges and a signature bond for his daughter, 28-year-old Autumn Woodward. Mr. Woodward tried to tell jailers he was an officer in training, but could not prove his claims. Jailers quickly became suspicious and refused to go along with Woodward's wishes.
Autumn Woodward was in jail for allegedly taking 137 items worth over 14-hundred dollars from Walmart. She was released December 2nd on a $1,500 signature bond. She will be back in court for a pretrial hearing February 6th. She has a lengthy record of past thefts, obstructing officer, and drug charges.
Bradley Woodward also has a past record of thefts plus a cocaine delivery conviction. He will be in court for a preliminary hearing on the new charges February 11th and is scheduled for a March 19th jury trial.