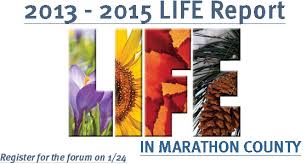 WAUSAU, Wis. (WSAU) -- Every two years, United Way of Marathon County releases an analysis of issues that need to be addressed in the area. It's called The LIFE Report, and the report is being released Friday morning. The LIFE Report looks at 68 different indicators covering six categories, ranging from basic needs, health, safety, education, the environment, and the economic climate.
The United Way conducts surveys and studies to see what is needed, and evaluate how the various programs and services can better serve the community.
One of the many non-profit services that benefits from the study is Healthy Marathon County's Alcohol and Other Drugs Partnership. Coordinator Melissa Dotter says the LIFE Report helps her and several other organizations. "What this report actually indicates some of those priority areas in the community that we really need to address, that are impacting us."
Dotter works with drug and alcohol issues, and says the LIFE Report has been instrumental in helping her agency focus on what is needed. "It's great to have local data that is tied to the residents, that's not incident data, for example, with law enforcement or emergency room data, or some of those other data points. This is going right to the residents. They take this survey every other year, and it really does help."
Dotter hasn't seen the new report in advance, but suspects the surveys will show a great community need in the area of alcohol and drug abuse prevention and counselling. The LIFE Report Forum is scheduled for Friday, January 24, 2014, from 7:30 a.m. to 9:15 a.m. at the University of Wisconsin - Marathon County Center for Civic Engagement. The event is open to the public and free of charge.
The LIFE Report will also be available at the United Way of Marathon County's web page after the presentation.