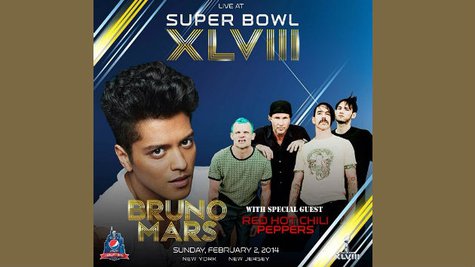 We have Bruno Mars to thank for the Red Hot Chili Peppers making a guest appearance during the pop star's halftime show at the Super Bowl this Sunday. During a press conference on Thursday, Mars revealed that when the NFL asked him if he'd be open to collaborating with another band for his performance, he immediately chose the Chili Peppers.
"The first band I thought of was the Red Hot Chili Peppers," he declared. "I've been a fan of theirs for such a long time." Mars added he got the chance to chat with RHCP bassist Flea , and was enamored with the group commitment to its craft.
"They're [a] soulful band, and not just musically but as, as people," he explains. "I sat down with Flea...and he's so passionate about music, even 'til this day. I wanna surround myself with guys like that forever. So it's an honor to be sharing a stage with them…they're one of my personal favorite bands of all time. "
Drummer Chad Smith recently revealed to Billboard that the band will be playing a Chili Peppers song for their three-minute appearance during halftime show, although he is staying mum on which song that will be.
Super Bowl XLVIII will air live on Fox on Sunday, and the game is scheduled to begin at 6:30 p.m. ET.
Copyright 2014 ABC News Radio