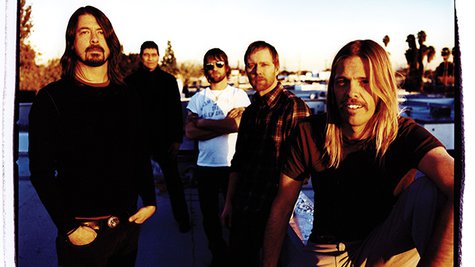 The upcoming HBO series from Foo Fighters , Sonic Highways, has placed the band in dangerous situations -- well, musically dangerous, anyway. In an interview with the South African Rolling Stone , Dave Grohl and Taylor Hawkins seem alternately thrilled and terrified at the positions they've put themselves in: traveling across America, from recording studio to recording studio, using local musicians to craft songs -- often in very short time -- for their new album, which also will be called Sonic Highways .
Grohl says although the process has been hairy at times, it's also been rewarding. "I don't write the words until the day before I sing them, sometimes that morning," he reports. But he says, "It's also a relief, because I'm pulling direct inspiration [from my surroundings]."
Hawkins says that using the best local musicians sometimes has him "hanging on for dear life...[when they're] next to me, playing the craziest upside-down stuff -- I just [try] to keep time."
The studios featured on the album and in the HBO series are located in Chicago, Austin, Nashville, Los Angeles, Seattle, New Orleans, Washington, D.C., and New York. In the Rolling Stone piece, Grohl says that there are eight tracks on the album but "it's gonna be our longest album. There are some epic jams."
Though HBO hasn't yet specified a premiere date for the series, it does say it will premiere "on the eve of Foo Fighters' 20th anniversary." That would be sometime this October, 20 years after Grohl recorded the first Foo Fighters songs at Robert Lang Studios in Shoreline, Washington.
An HBO teaser simply says, "Coming soon."
Follow @ABCNewsRadio Copyright 2014 ABC News Radio