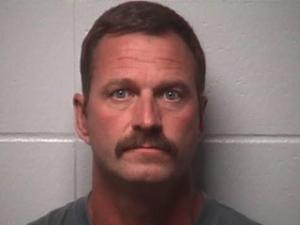 MERRILL, Wis. (WSAU) -- The man convicted in the death of his wife in Merrill will spend the next 35 years in prison before he's eligible for release.
Judge Jay Tlusty laid out the sentencing and his reasoning for it at a hearing this morning in Lincoln County Court. Mark Bucki was convicted back in April of first degree intentional homicide in the death of his estranged wife Anita Bucki.
At sentencing, Judge Tlusty spent several minutes explaining the process Bucki would have to go through in order to convince the Department of Corrections board that he should be released after his 35 year term was up, and ensuring that the gallery understood that he himself could not make that determination from the bench today.
During arguments today, district attorney Don Dunphy called Mark Bucki unremorseful and said that the nature of the crime and its attempted coverup was coldblooded and planned. "The murder was unprovoked and unjustified and the only motivations were lust and greed." He told the court that Bucki wanted his estranged wife Anita dead in order to prevent a divorce which could force him to turn over property to her.
Dunphy continued to point out previous incidents where Bucki tried to move Anita out of the way to get closer with his girlfriend. Bucki's son Clint yelled at the court when Dunphy said Anita was trying to dress nicer and lose weight in order to compete with the girlfriend. He also said Bucki had a history of being violent and threatening, citing incidents when he threatened his employees at work, put his son into a chokehold, and that he was discharged from the army for pointing his weapon at a superior officer.
Defense attorney James Lex tried to downplay the accusations, saying that any alleged incidents of violence were either over 30 years old, or did not result in any complaints to police.
Bucki broke down during allocution, claiming that he wished he could say he was sorry, but that he was still innocent in the case. He told the judge he wished he could find the truth in the case.
His attorneys have already filed a notice of appeal.