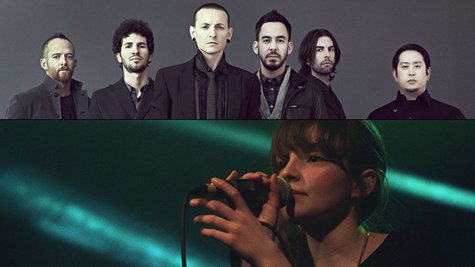 (NOTE LANGUAGE) Back in April, when the guys in Linkin Park were first starting to talk publicly about their new album The Hunting Party , Mike Shinoda told Noisey that he and his band mates were sick of pop-ified metal tunes. He referred to the genre as "Disney commercial music," and mentioned Chvrches by name.
Some three months later, Chvrches singer Lauren Mayberry has called the remark "complete bulls**t." In an interview with MTV U.K. , Mayberry says, "[Mike Shinoda's opinion is] not an opinion I would worry about hugely. It's not my kind of music. They've been on the radio for how long, and I just don't listen to that radio station."
Mayberry thinks, "That's a smarter move than saying something for a tagline…I think that's silly. Live and let live. I will continue to probably not buy Linkin Park albums."
Shinoda has spoken on multiple occasions recently about being dismayed by metal moving in a more pop direction, though he also told ABC News Radio, "I like a lot of that music...these indie rock and indie pop bands. However, there's a point at which I'm kind of full."
Follow @ABCNewsRadio
Copyright 2014 ABC News Radio