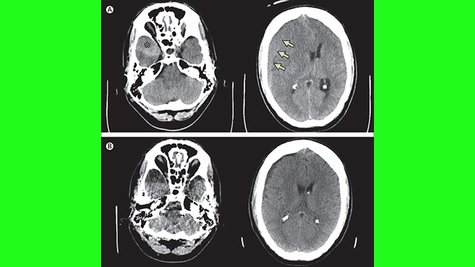 Motörhead is reaching out to the fan who developed bleeding on the brain after attending one of their shows in Germany.
Drummer Mikkey Dee said he is sending the 50-year-old fan, who was diagnosed with a subdural hematoma, a helmet and a neck brace to help with his condition. As previously reported, last week the German medical journal The Lancet published a study of the man who developed bleeding in the brain following a bout of headbanging at a Motörhead show.
"The first thing I thought was, 'Oh, no, poor guy.' Of course, we don't want anyone to get hurt at our shows. And it obviously had a happy ending I guess," he told Scottish website Team Rock. "They said, 'It's confirmed, Motorhead is the hardest-rocking band in the world."
He continued that he feels for the man, and hopes one day the band will be forgiven.
"I'm sorry for him that he ended up getting injured that bad from being at a Motorhead show. But I think we're gonna send him a hockey helmet and maybe a neck brace or something. He's gotta take it a little bit cooler."
Although a bizzare tale, Dee said this kind of thing happens to the band "all the time."
"We said all these years that we're like Spinal Tap and no script," he said. "If it is gonna be any band that ends up with these type of stories, it's obviously us. I'm not surprised. I just don't like when it's injury involved or people getting hurt, but if it does have a happy ending, yeah, I'm sure the guy can forgive us."
Follow @ABCNewsRadio
Copyright 2014 ABC News Radio