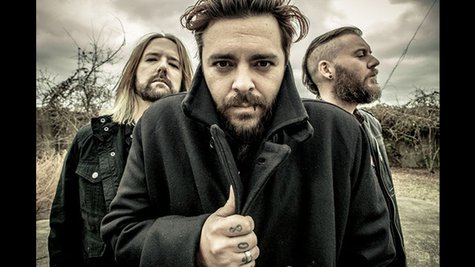 Seether 's brand-new album, Isolate and Medicate , debuted this week at the top of the Billboard charts in both the Alternative and Hard Rock categories. The good news comes despite the fact that the band had to find a home for the album after they were dropped in a label buyout. In fact, the stress of the situation may have helped inspire the album.
The title of the album is a comment on frontman Shaun Morgan 's mental state during the writing process, as previously reported. He tells ABC News Radio, "About August or September [of last year, we were] busy writing songs for what we thought was a new album with Wind-Up Records, [when] I got an email from somebody saying, 'Look at this press release' which...stated that we had been sold, as part of a catalog deal."
After that shocking news -- which Morgan notes he "read [about] before I got a phone call from my management [about it]" -- the singer says he "went into panic mode" and "shut down" emotionally, turning to drinking and getting stoned to mask his fear of the future. He also managed to write about some of the powerful emotions he was experiencing. "That's how I write," he says. "I write about the stuff that affects me on that really powerful level of 'if you keep it inside you're gonna explode.'...thankfully there was a lot of fodder for this album."
Was it worth it? Morgan says, "Would I like to go through that again? No...but I felt an uncertainty about my future so there were different negative emotions and negative drives, but that's I guess what I need to write music."
Seether will support Isolate and Medicate with a tour; here are the U.S. tour dates:
7/16 -- Oshkosh, WI, Rock USA, Ford Festival Park
7/17 -- Walker, MN, Moondance Jam
8/2 -- Syracuse, NY, Chevrolet Court - NY State Fairground
8/6 -- Ventura, CA, Ventura County Fair
8/8 -- Roseburg, OR, Douglas County Fair
8/9 -- Las Vegas, NV, Fremont Street Experience Summer Concert Series
8/15 -- Detroit, MI, Uproar Tour, DTE Energy Music Theatre
8/16 -- Peru, IL, Uproar Tour, Illinois Valley Regional Airport
8/19 -- Boise, ID, Western Idaho Fair
8/20 -- Kennewick, WA, Benton Franklin Fair
8/22 -- Palmer, AK, Alaska State Fair
8/24 -- Indianapolis, IN, Uproar Tour, Klipsch Music Center
8/26 -- Camden, NJ, Uproar Tour, Susquehanna Bank Center
8/27 -- Gilford, NH, Uproar Tour, Meadowbrook Pavilion
8/29 -- Simpsonville, SC, Uproar Tour, Charter Amphitheatre
8/30 -- Tampa, FL, Uproar Tour, Midflorida Credit Union Amphitheatre
9/2 -- Grand Prairie, TX, Uproar Tour, Verizon Theatre
9/3 -- Corpus Christi, TX, Uproar Tour, Concrete Street Amphitheatre
9/5 -- Bonner Springs, KS, Uproar Tour, Sandstone Amphitheatre
9/7 -- Oklahoma, OK, Uproar Tour, Zoo Amphitheatre
9/9 -- Broomfield, CO, Uproar Tour, First Bank Center
9/12 -- Spokane, WA, Mainstage, Spokane County Interstate Fair
9/14 -- Sacramento, CA, Aftershock Festival, Discovery Park
Follow @ABCNewsRadio
Copyright 2014 ABC News Radio