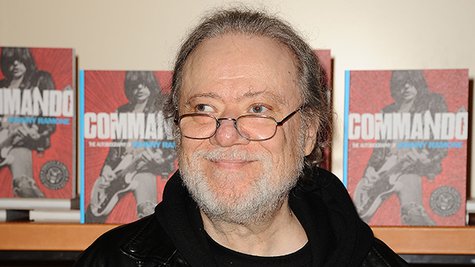 Tommy Ramone , the last of the founding members of The Ramones , has died at age 65.
Ramone's death was announced on the band's official Twitter account just after midnight Eastern U.S. time on Saturday: "We are saddened to announce the passing of Ramones founding drummer Tommy (Erdelyi) Ramone. # RIPTommyRamone."
Ramone reportedly had been fighting bile duct cancer.
Born Erdelyi Tamas in Budapest, Hungary, Ramone came to the U.S. in 1957 and ultimately joined forces with Joey , Johnny and Dee Dee Ramone -- aka Jeffrey Hyman , John Cummings and Douglas Colvin -- to form their groundbreaking punk band.
The quartet made their live performance bones at New York's seminal punk club, CBGB, beginning 1974. Their first album, Ramones , was recorded in a week's time in 1976 for a reported $6,400. Though it wasn't commercially successful then, the album since come to be regarded as one of rock's most influential. Tommy Ramone played drums on that album, as well as the two follow-ups, Leave Home and Rocket to Russia , both released in 1977.
Tommy Ramone left the band after their third album to concentrate on studio work and producing. He was replaced by Marc Bell , aka Marky Ramone . Tommy Ramone spent the years since then producing music, and more recently as one-half of the bluegrass duo Uncle Monk .
The Recording Academy said in a statement, "As the last surviving member of the original Ramones lineup, his sad passing is truly the end of an era — or as the group would say 'the end of the century.' However, his and the group's viable and enduring legacy serves as a potent reminder of why their work still is, and will remain, so influential. Our sincere condolences go out to his family, his friends, and all the musicians and fans who have been galvanized by the revolution he helped incite."
The Ramones disbanded in 1996 and were inducted into the Rock and Roll Hall of Fame in 2002, one year after Joey Ramone died of lymphoma. Dee Dee Ramone died that year of a drug overdose, while Johnny died of prostate cancer in 2004.
Follow @ABCNewsRadio
Copyright 2014 ABC News Radio