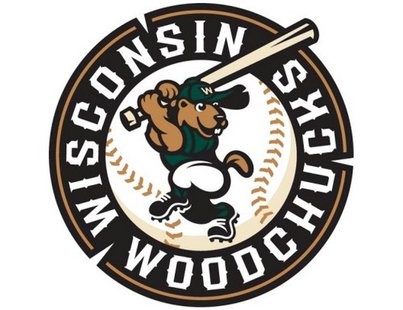 BATTLE CREEK, Mich. (WSAU-Woodchucks.com) -- Five Woodchucks' pitchers combined to allow a season-high 18 runs on a season-high 24 hits as the Woodchucks dropped game one of their series with the Battle Creek Bombers, 18-6, Saturday night at C.O. Brown Stadium.
Every starter in the Bombers (4-8) lineup tallied at least two hits, while seven different starters were credited with at least one RBI.
The Bombers, who had been shutout by scores of 9-0 and 14-0 their previous two games at Green Bay, wasted no time in exploding in their return game home. Against Woodchucks' starting southpaw Zach Barr, the Bombers scored seven runs on seven hits in the first inning to take an early 7-1 lead. The lead expanded to 11-1 in the third inning, when lefty reliever Seth Davis surrendered four runs.
The Chucks (7-6) kept fighting offensively, as center fielder Derek Peake picked up his first hit and drove in his first run for the Chucks with a bases-loaded infield single in the fourth inning, cutting the deficit to 11-2. With the bases still loaded, second baseman Nate Mondou unloaded them with a double to right field, bringing the Chucks within six, trailing 11-5.
However, Battle Creek would score the next seven runs unanswered before Wisconsin first baseman Brendon Hayden tallied an RBI-double in the ninth inning to make it 18-6.
Hayden tallied two hits in five tries for the Woodchucks, who also got a multi-hit effort from third baseman Paul DeJong (2-for-5).
The Woodchucks are back in action Sunday afternoon, as they take on the Bombers in the second of two at C.O. Brown Stadium. First pitch is slated for 4:05 P.M.