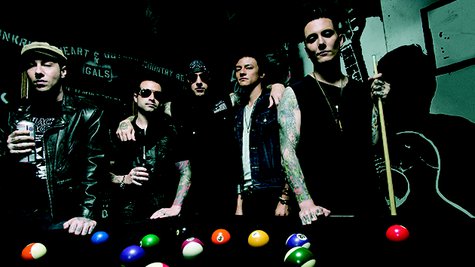 Love was certainly in the thin Colorado air earlier this month when Avenged Sevenfold performed at the Red Rocks Amphitheatre in Morrison.
The band briefly paused during its Rockstar Energy Drink Mayhem Festival set on July 14 so Beau Barkley -- who has done marketing work for Rockstar, according to his LinkedIn profile -- could propose to girlfriend and big-time Avenged Sevenfold fan Micah Manzanarez .
It all started when frontman M. Shadows said to the crowd, "We're not used to this high altitude. You mind if we take a break?" Hinting at doing something "very cool, really quick," he escorted Manzanarez, whom he called a "volunteer," to the center of the stage and covered her eyes. Barkley then raced out holding a ring in his right hand, got down on his right knee and popped the question.
The happy couple embraced as M. Shadows urged the audience to give them a round of applause.
Several days later, Barkley wrote on his Facebook page, "This took a lot of help from a bunch of people to make this happen. I have toured with most of these people for years and don't just consider them friends. They are my family."
Follow @ABCNewsRadio
Copyright 2014 ABC News Radio