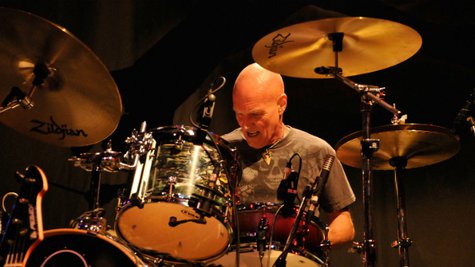 Even with a resume that includes membership in The Firm -- Jimmy Page 's post- Led Zeppelin band -- as well as backing Pink Floyd 's David Gilmour , drummer Chris Slade still had to try out circa the late 1980s for AC/DC .
The 67-year-old Slade tells Music Radar he auditioned for the hard-rock band along "with 100 top players" and thought he'd done "terribly."
"I called my wife and told her I'd be home in half an hour [because during the audition] I said the wrong things, I played the wrong things," Slade recalls. He must have done something right: By the time he got home, his wife said the band had called to tell Slade he had the job.
Slade only played on one AC/DC studio album: 1990's The Razors Edge , which included the songs "Thunderstruck" and "Moneytalks." The impetus for his departure, according to Slade, came when guitarist Malcolm Young said the band wanted to give classic-era drummer Phil Rudd another chance.
"I said, 'That's me out, then, I'm gone,'" remembers Slade, who resigned the next day, even though Young wanted him to stick around "for months and months" in case Rudd didn't work out.
Almost 20 years later, Slade doesn't express any bitterness about the way things went down.
"We still get on, and it was an honor and a privilege to play with those guys," says Slade. His latest project is called the Chris Slade Timeline , which recently completed recording an EP.
Follow @ABCNewsRadio
Copyright 2014 ABC News Radio