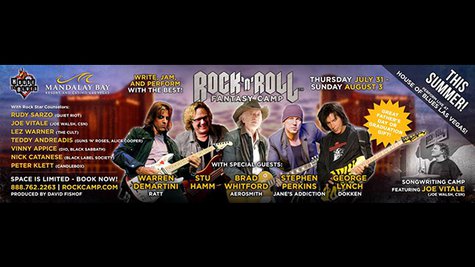 Wanna be schooled in the ways of Aerosmith and Jane's Addiction ? Pay your tuition, pack your pencil -- and your guitar -- and get set to attend the latest edition of the Rock & Roll Fantasy Camp, the training ground for aspiring rockers.
This year's Fantasy Camp instructors include Aerosmith's Brad Whitford , Stephen Perkins of Jane's Addiction , Warren DeMartini of Ratt , George Lynch of Dokken , and many more.
Among the activities that Rock 'N' Roll Fantasy Camp attendees will get to enjoy are jam sessions, Q&A events with various rockers and live performances, as well as writing and recording their own original songs. The camp will conclude with a live performance at House of Blues at the Mandalay Bay Resort & Casino.
This year's Rock 'N' Roll Fantasy Camp Runs from July 31-August 3. Full details can be found at RockCamp.com