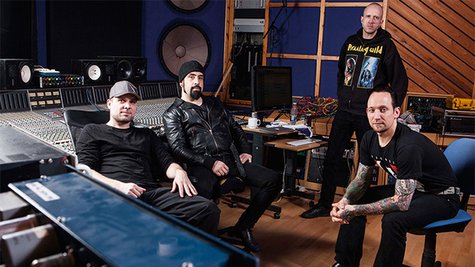 Volbeat is killing it these days. The band recently announced a fall co-headlining tour with Five Finger Death Punch , and its most recent album, Outlaw Gentlemen and Shady Ladies , continues to sell well almost a year-and-a-half after its release. The band's latest standalone is "Dead But Rising," a driving anthem that's the perfect summer song.
Volbeat is from Denmark but its latest member is an American -- former Anthrax guitarist Rob Caggiano , who was producing Outlaw Gentlemen when the band asked him to join as a member. Caggiano tells ABC News Radio that although his band mates are European, their influences are straight-up American. "The sound of Volbeat is very much influenced by a lot of classic rock and roll stuff," he says. "And a lot of it is American stuff... Elvis, Johnny Cash, the Misfits . It's just the way it's put together [and] the way it's spit out that makes it unique. When you listen to all these bands and then Volbeat comes on, it just doesn't sound like anything else."
Caggiano tells ABC News Radio that as soon as he agreed to join the band, "all these doors opened up, musically speaking. [The] cool thing about Volbeat is the fact that there's no boundaries and there are no rules. So, as a guitar player, that's a dream situation."
He says that with the encouragement to try as many new ideas as he wanted, he in turn expanded the band's musical landscape. "I spent hours experimenting," he says. "Trying different things, different sounds, different amps, different mics, different [everything], and they had never had that kind of thing on a Volbeat record."
Outlaw Gentlemen and Shady Ladies is available in all the usual locations. Volbeat and Five Finger Death Punch's fall tour kicks off September 16 in Salt Lake City.
Follow @ABCNewsRadio
Copyright 2014 ABC News Radio